In 2018 Kaspersky products participated in 86 independent tests and reviews. Our products were awarded 64 firsts and achieved 70 top-three finishes. The TOP3 metric represents the aggregate scores achieved by over 80 well-known vendors in the security industry's most respected, independent tests and reviews. Sustained performance across multiple tests and products gives a more meaningful assessment than a one-off performance in a single test.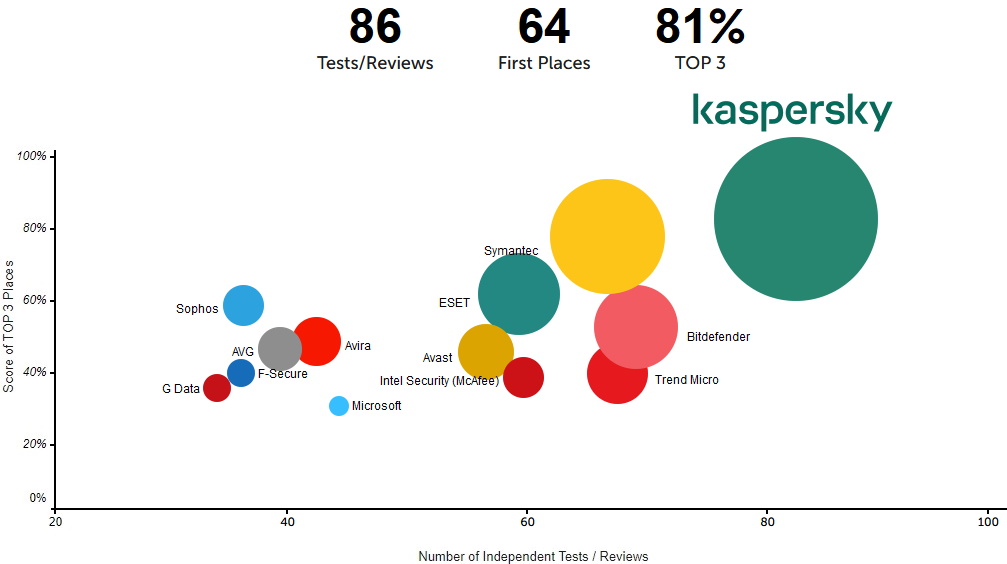 Again Kaspersky Lab is the best in hunting viruses and malware.

View year 2018 PDF report
2013 - 2014 - 2015 - 2016 - 2017 - 2018 - 2019
COMPERATIVE TESTS, REVIEWS & AWARDS
The diversity of Kaspersky solutions and technologies means it's possible for us to participate in a broad spectrum of tests and reviews.
Try

Kaspersky for free

Easy to install, does not require complicated skills

Does not affects computer performance

Multiple winner and leader in achieving TOP 3 in tests (see details)

English user interface

More than 400 million users worldwide



Kaspersky


Total Security




(Windows, macOS, Android)

Kaspersky


Internet Security




(Windows, macOS, Android)

Kaspersky


Anti-Virus




(only Windows)
| | | | |
| --- | --- | --- | --- |
| Protection of Windows, macOS, Android | | | |
| Basic & Extended Antivirus Protection | | | |
| Parental Control | | | |
| Safe Kids | | | |
| Wi-Fi & Application Control | | | |
| Protection against network attacks and webcam protection | | | |
| Automatic programs updater | | | |
| Secure Payments | | | |
| | | | |
| Secure Passwords & Sync on devices | | | |
| Files Backup | | | |
| Files Encription | | | |
One license for all devices
Buying a license you can protect any devices Windows, macOS and Android*.

* - The functionality of the products on different operating devices is different.
Basic and enhanced protection
Basic antivirus protection compares files with antivirus databases for a match, it is ineffective method in currect times - new viruses are evolving much faster than is possible to update the anti-virus database.

Therefore, in the "Kaspersky Lab" is additionally using Extended Protection - proactive and cloud.
Do you know what does your child on the Internet?
Kids are spending more time with computer than they should? Regulate the time of gaming and Internet surfing. Restrict access to sites of dubious and unwanted content for your child.

Child may not be aware of the threats in Internet. Know what a son or daughter are doing in the Internet.
Your child is safe
Always know
Wi-Fi connection control
When you connect to the free Wi-Fi network from your PC or Windows notebook, you will receive a notification about the level of security of the network and recommendations for the protection of their data in it.
Application control
Application Control and the inclusion of "regimes security program", when only trusted applications run from the list, provide a secure software run only on your computer.
Blocking network attacks and hacking webcams
Blocking prevents network attacks hacking your computer and decrease productivity.

Preventing unauthorized access to the webcam on a PC or laptop Windows and ensures your privacy.
Automatic programs updater
Installing software updates is a necessary step to prevent the use of flaws and errors in older versions of the software. If you install all updates, the system and programs will become safer and more stable.

Therefore, the program needs to be updated, but not all users do it. This antivirus feature will automatically update the programs for you.
Secure payments
Technology "Anti-Phishing", "Secure Keyboard" and "Secure Payment" provides protection while using online banking, paying by credit card. Shopping online is perfectly safe!
Password synchronization
Password Manager - a special feature that creates strong passwords, stores them securely in the cloud and syncs between all your devices, Windows, Mac, Android and of iOS, which set the Password Manager application.
Backup
Automatic backup ensures the safety of your valuable data in case of breakage or theft of your computer, because it puts them in the cloud.
Encryption
Encryption of personal data, so that nobody except you could not read them.
Buy new license

starting 51,95 €

starting 29,95 €

starting

23,95 €

Buy license updatye

starting

43,95 €

starting

25,95 €

starting 19,95 €